Pursue Superior Quality,Meet Customer Requirements
Comply with Rules,Strive for Perfection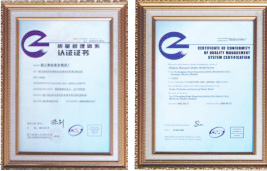 To Pursue Superior Quality and Meet Customer Requirements
All the staff should have a strong sense of superior quality and create nearly-perfect products, meet customer requirements and enhance their satisfaction, improve after-sales and insider service, and actively explore the market. Only in this way can the company earn customers' confidence and satisfy customers' demands.
To Comply with Rules and Strive for Perfection.
The quality must be effectively controlled according to ISO 9000 and the relevant laws & regulations. The staff should conform to the relevant rules, continuously promote and perfect quality management system, improve the ability for meeting customer needs and expectations, and continually innovate. Only in this way can the company realize the sustainable development.